TUV Safety Approved Industrial Controller
In cooperation with Compaq Computer Corporation, an industry leader of consumer and specialized computing solutions, OTEC performed the hardware and firmware design of a ruggedized, TUV safety approved industrial communications controller for use in Dow Chemical Company's worldwide chemical processing plants.
Applied Technology
Based upon technology from Advanced Micro Devices (AMD), the top-shelf SC520 controller is packed with features. OTEC selected the AMD SC520 microcontroller to power dual Am79C973 PCnet-Fast™ III Ethernet controllers configured with 100Base-FX fiber optic physical interfaces. Sixteen megabytes of SDRAM and Am29LV17D flash memory makes this board resource-packed.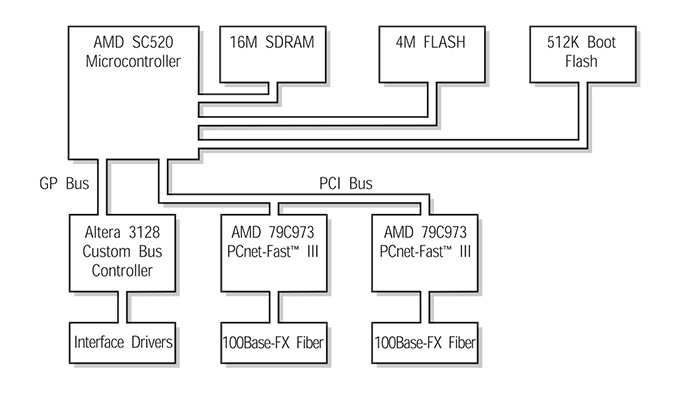 General Software—Applied Technology
Embedded BIOS, Embedded DOS, with resident flash disk support results in a flexible, user-friendly firmware platform.
OTEC —Solutions
OTEC applies electronics technology to demanding requirements everyday. Contact OTEC now. Let us apply our expertise to your custom design requirements too.