Intel Core i7 Processor Extreme Customization
Modern Intel Architecture processor board design spans a wide range of processor performance and power. From Atom to extreme Multicore Processors, OTEC can design a custom Intel Architecture solution to meet your specific requirements. OTEC's Multicore Processor board is feature packed.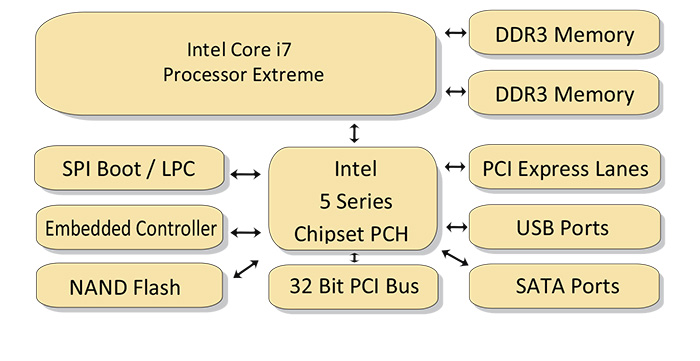 H8S2472 Embedded Controller
Critical to the success of any custom Intel CPU board design is the Embedded Controller. OTEC has developed and ported numerous Embedded Controller designs. These designs, based on Renesas 2472 H8S processors offer ACPI, PS2 Keyboard, Local Console, Port 80H Debug, and Power Sequencing services.
Rapid Design Cycles
Small form factor high speed multi-core processor design requires experience. High current power supply design, power bypassing and power routing are challenging tasks. High speed DDR3 memory routing requires exacting signal trace length matching and calculation. Power dissipation requires proper heat sink consideration and planning during the design cycle. Rapid design requires the simultaneous consideration of all these factors. One mis-step and an aggressive schedule can become a train wreck. OTEC's years of Intel Computer System design experience is an enormous asset.
Orchid Technologies: Intel Processor Design
The development of custom electronic products for our OEM clients is OTEC's entire business. The design of high speed computer platforms with rapid design cycles, demanding technical requirements, and unforgiving schedules sets us apart. Contact OTEC today!