Embedded Pentium II®
Eastman Kodak Company, an OTEC client, wished to inject new life into its line of professional image capture products. Building upon OTEC's years of embedded x86 / Pentium / Pentium II, multimedia, imaging, and networking expertise, Kodak leveraged a custom OTEC design and kept a crucial market segment, the professional photographer, taking pictures and generating profits.
Multimedia Pentium Performance on the Top of a Tripod
Or wherever you want it. Working with Intel Corporation and General Software, OTEC is able to deeply embed a Windows 98/Windows NT/Windows CE ready Pentium II, Pentium or x86 solution into your exact form factor.
Multimedia Video
Multimedia Audio
USB Ports
FireWire
Ethernet, Token-ring, Fibre Channel
Flat-panel Display
XGA/SXGA Video
PCMCIA / Cardbus
IrDA / Infra-red Controls
Customized BIOS / POST
Customizable Input / Output
Customized Mechanical
An Embedded Example
OTEC produced a custom, single-board, multimedia, Pentium class computer capable of real-time RS170 image capture in a Windows 98 environment. High quality live and flash-synchronized image capture were included. JPEG image compression provided compatible image exchange formats.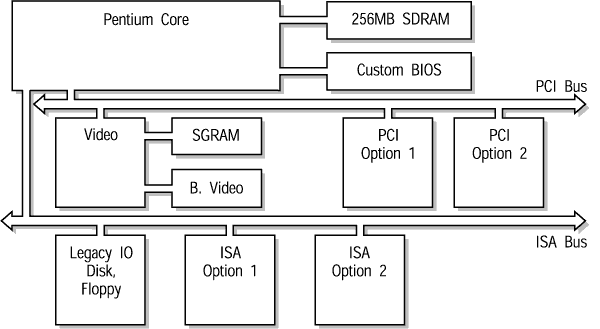 Embedded x86 Technology
Choose from '186, '386, '486, Pentium or Pentium II class processors. OTEC has embedded these in hundreds of highly customized products. OTEC works with you to understand your customization needs. We will integrate your existing design elements together with our own core and peripheral designs to achieve your product goals. Contact OTEC today, let us fit personal-computer performance into an unusual place for you too.