Broadcast Video on the World Wide Web
Zulu Broadcasting's trade show was five weeks away when they hired Orchid Technologies Engineering and Consulting Inc. to perform the electronic design and packaging of their revolutionary new web-casting appliance. OTEC mobilized its top engineers to solve a myriad of packaging, power, display, component density and product architectural issues.
The Architecture
Highly compressed full frame NTSC/PAL video and a synchronized stereo audio channel using conventional 56K baud modem technology make this portable web-caster unique in its class.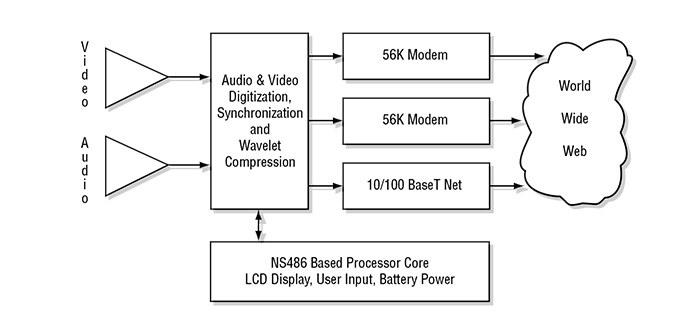 Feature Rich and Ready On Time
Working night and day, OTEC successfully produced five prototype units for VIP demonstrations at the trade show. Loaded with features such as Wavelet and MPEG2 Video Compression, state-of-the-art packaging technology, modem and Ethernet capability, 10 hour battery life, this box is an eye opener! Contact OTEC today, we can produce a feature-rich, eye opener in record time for you too.