SOHO Telecommunications with Xscale ARM Processor Running Linux
Based on the Intel IXP425 Xscale Processor, OTEC's SOHO Telecommunications Hardware offers choices. Daughter boards permit expansion from four to eight to sixteen POTS FXS or FXO Ports. Four Ethernet 100BaseT LAN ports, Two Ethernet 1000BaseT WAN ports, a single ADSL port and a single WiFi (802.11) daughter board make this hardware cost competitive and flexible. Power loss line fail-over switching completes the hardware feature set.
Feature Rich Telecom Architecture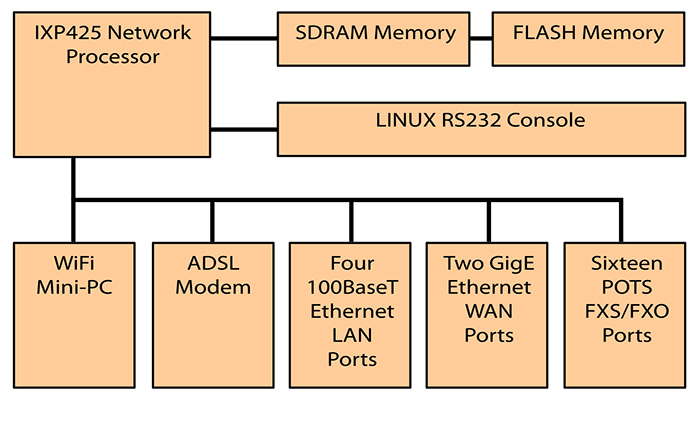 Linux Operating System
Integrated Linux boot services, together with driver and communications stacks, makes this communications product complete. Voice mail services and solid state storage permit the creation of many extra software features.
Orchid Technologies — Power Electronics
The development of custom Electronics Technology solutions for our OEM clients is OTEC's entire business. High-performance Telecommunications Hardware with rapid design cycles, demanding technical requirements and unforgiving schedules set us apart. Contact OTEC today!